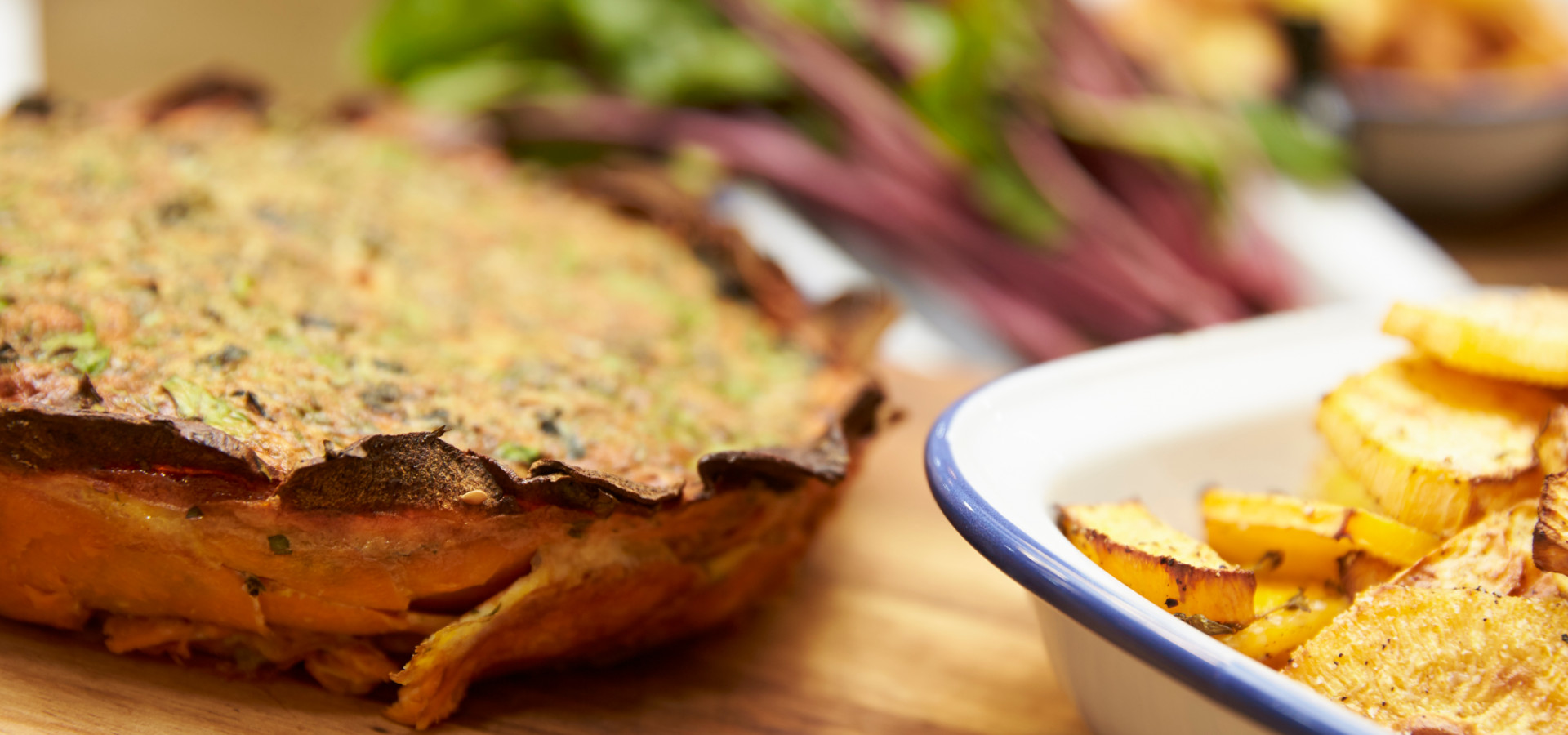 Sweet Potato Quiche with Goats Cheese
ingredients
400g sweet potato, peeled and finely sliced on a mandolin
40g margarine/butter, melted
80g kale, stalks removed
20g red chard
3 eggs, beaten
50ml milk
Flat leaf parsley
½ lemon, juice and zest
30g linseeds, toasted
80g goats cheese, crumbled
Baking beans/rice for baking blind
Contains: Egg, Milk
nutrition facts
Per average serving:
energy
1121 kJ / 268 kcal
of an adult's Reference intake (8400kj / 2000kcal). Typical values per 100g: Energy 268kJ/64kcal
method
Preheat the oven to 170°C. Line a small frying pan with baking parchment.


Combine the melted margarine/butter with the potatoes and gently toss to coat.


Line the frying pan with the sliced potato, overlapping the potatoes (ensuring no gaps are left) in a circular motion from the outside spiraling into the centre reserving some of the potato to line the sides. Cut the remaining potato slices into half-moons and again overlap these (straight edge down) around the sides.


Place a large piece of baking parchment into the now lined case and fill with blind baking beans (or rice).


Place into the preheated oven for 20-25 minutes or until the potatoes are tender and have set. Remove from the oven, remove the baking beans and return the base to the oven for a further 8-10 minutes to dry it out.


Prepare the filling. Blanch the kale in boiling water for approx. 1 minute or until tender. Remove and dry.


Mix the eggs with the milk, parsley, lemon juice and zest.


Place the blanched kale and the red chard into the prepared case, followed by the egg mixture. Sprinkle over the linseeds and goat's cheese.


Place into the preheated oven for approx. 20-30 minutes or until just set. Remove allow to rest for 10 minutes then serve.
Important information
*Allergen information is compiled using data obtained from the manufacturer of products we have used. If you decide to use a different product there may be a different allergen declaration, so please check the labels of all the ingredients you purchase to make this recipe. This information is for guidance only.
Nutritional information has been compiled by Registered Nutritionists using an industry standard software system (FDH Saffron). Please bear in mind that the nutrition will change depending on the products that you use to make this recipe. This information is for guidance only.